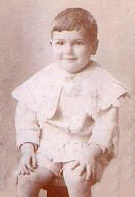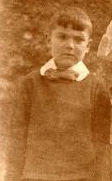 Edward Moore was known as Ness to his brothers and sisters (and Uncle Ness to his nephews). He changed his name by deed poll1 to Edward Moore.
Born Nessin Isaac Camayor,2 his mother was Constance Hilda Austing, and his father was Jewish3 with a family who objected to him marrying a gentile.
They did pay child support though.
Marjorie Moore, wife of Reginald Moore, thinks his name was changed when Francis William Moore married Nessin's mother.
Reginald always said that Edward's original name was Nessin. Marjorie Moore said it was Nessin Isaac (Kameha ?).
Auntie Queenie thought the father was Turkish. Marjorie said both are correct--a Turkish Jew.
Record Search
A project is being done by volunteers (about 50% completed), to transfer Birth, Marriage and Death records onto the Internet from when they were centralised in 1837 to 1983 (presumably when they went straight to computer). Before 1837 you need parish records which aren't easy to find even if they haven't been lost.
Terry couldn't find himself or his brothers, father or mother, even with full names. He did find a few hits for Nessin but got only one born near 1900:
| | | | | | | |
| --- | --- | --- | --- | --- | --- | --- |
| Name | Year | Quarter | District | County | Volume | Page |
| CAMAYOR, Nessin Isaac | 1904 | March | Aylesbury | Buckinghamshire | 3a | 968 |
Almost a perfect match! The date means registered in the first quarter of 1904 - consistent with a 24 December birth.
Looking for Camayor also only gave a few hits--including the above. If you apply for the original record (using the volume and page number given) no doubt that the mother would be Constance Hilda Austing and that will lead to information farther back on the Camayor side.
Other Searches
Google search for Nessin found a site in Portugese--a machinery manufacturer--and several sites in Finnish about the Loch Ness Monster. Not much luck there.

Google search for Camayor found:
Spanish sites with touring information about the Asturias region in northern Spain,
Proceedings of a court case in the Phillipines citing a US illegal arms importing case (State versus Camayor),
interclub tournament lists in French with a Camayor playing in Senior Ladies (sport not shown),
a correction to a death record (also French) and
www.sephardicstudies.org/Turkey-Shoah-France.pdf extracted from which:
Jews born in Turkey deported from France in WWII
| | | | | |
| --- | --- | --- | --- | --- |
| Surname | First Names | Birth Place | Birth Date | Conv.No./date |
| CAMAYOR | Albert | Istanbul | 15.5.1898 | 47-11.2.1943 |
| CAMAYOR | Lea | Istanbul | 5.2.1903 47-11.2.1943 | |
| CAMAYOR | Sabat | Istanbul | 4.7.1897 | 34-18.9.1943 |
| ROTBERG | Lea | Istanbul | 25.8.1905 | 23-24.8.1943 |
Lea Rotberg seems to be the following in the French death record correction: Rotberg, born Camayor (Lea, known as Louise) in 1905 in Constantinople (Turkey), deceased on August 29, 1942 in Auschwitz (Poland) and not on August 24, 1942 in Drancy (the Seine).
Telephone directories. The Turkish one isn't on line, and most wanted the region or the town.
Camayor couldn't be found in London.
The Spanish directory allowed a full search on minimal information but gave only one hit, a middle name of Camayor.
Perhaps most of the Camayors either left Spain or only adopted the surname after leaving.
Sephardic Jews
Britannica says Sephardic (in summary)
1492: Christian Spain conquered Moorish Spain and expelled the poorer Sephardic (Spanish and Portuguese speaking) Jews (most richer ones converted to Christianity, but some later left Spain). They moved to the Balkans, mainly Turkey and Salonica. Sephardic Jews speak Ladino, a dialect of old Castillian Spanish and celebrate Babylonian style religious ceremonies rather than the Palestinian style of the Ashkenazi (German speaking) Jews.

Perhaps the family name came from the Camayor valley in Spain, which is in the South of Asturias and quite remote (no road, only a walking track), and that the Camayors moved to Istanbul in 1492. On the other hand, Camayor might be an abbreviation of Calle Mayor (especially as ll is pronounced y in modern Spanish) which is somewhere near Asturias.

According to"Britannica Year in Review 1995: Literature: ENGLISH- United States" Novelist Victor Perera successfully traced his Sephardic roots from medieval times onward in The Cross and the Pear Tree.
Spanish Civil War
There is another family reference to Northern Spain. James Gough, a cousin once removed4, Auntie Kate's son, was killed at Boadilla during the Spanish Civil War. The book Boadilla is an account of his unit and gives details of what happened there. (Britannica says that Boabdil (Muhammad XI) was the last Sultan defeated in 1492. I wonder if Boadilla is named after him or vice-versa.)

(4) Two Moore families one Sullivan, Hartle, Cook and Vincent families.
Edward Moore's comments
Nessin Isaac Camayor?
Dad's birth name has caused endless problems, not least being that he could never find his birth certificate. The year is out by one but that's not a problem. The name Camayor was around, I heard it as Carmeyer.
The Nessin you found is definitely Dad. His first given name was Nessin, and some of his relatives always used that name when writing so it wasn't any kind of secret. I hadn't heard the Isaac before. He was born in Aylesbury and, as you say, the date difference still allows the 24th December 1903 date to be valid. The Turkish Jew background was also known to him but only very late in life - THAT had been suppressed, to some extent, or at least kept from him.
There was also the story that his father had been jailed for selling without a license, or something like that, in some Southwest town and so Hazel went looking for the records. Unfortunately they had all been burned in a fire at the courthouse or whatever.
Interesting background to the name Camayor. When the idea of a 'Turkish Jew' was raised I didn't for one moment think that it would be anything other than one of the European settlements of Jews that were often set up in Constantinople, and indeed in Thesaloniki, as you say. To travel to England to sell carpets would have been no big deal to them. I doubt very much if we will ever make any connection to this one, though. Still, to know his name would be interesting. Ed
About this page
Page created by Jack Moore copying the format of Ed's pages. The links are to faster loading versions of Ed's pages and are hard to tell apart.
This page needs proper photographs! When you get time please, Ed.
With some reasonable exceptions, I have made no attempt to update or alter the other pages, although several things should be. Hopefully, Ed will get time later to do what is needed, including use this better web host and improved site.

Lt. Edward Moore
On HMS King George V
Just after the war
Edward Moore
in1990

Lt. Edward Moore
Just before the war